Implants in Fishers, IN
Welcome to Walker Dentistry!


Implants are a wonderful way to replace one or more missing teeth restoring your smile for a lifetime.
Implants can make loose Dentures hold tightly restoring your ability to chew or replace ALL teeth with something permanently Fixed.
At Walker Dentistry, your implant can be placed and restored all in the same place, saving you time and money.
With advances in technology we are able to utilize 3D x-rays to computer plan your implant procedure which often allows us to place implants with no incisions or stitches.
How Do Dental Implants Work?
Dental implants are designed to serve the same purpose as the root of a tooth. They are small titanium devices that resemble screws that are inserted into the bone tissue below the gum line. When the implant heals into the bone, which may take several months, an abutment and permanent crown are placed on the top. With a porcelain or ceramic crown, the implanted tooth is indistinguishable from your other teeth.
Why Are Dental Implants the Best Solution?
The main reason why dental implants are the ideal solution is that they are permanent. Once they're installed, they're no different than any of your other teeth in terms of function and appearance. They also help keep the bone tissue healthy and strong. When you get dentures or bridges, the bone tissue can degrade over time.
Who Can Get Dental Implants?
Patients who have generally good dental health can get dental implants. Viable bone tissue is needed to ensure that the implants will stay rooted. That's why it's important to see a dentist for a tooth implant as early as possible. In some cases, a bone grafting procedure can help improve a patient's chances of having a dental implant integrate successfully.
Do you need to replace a missing tooth or multiple teeth? Call Walker Dentistry in Fishers, IN today at (317) 849-8550 to learn more about dental implants or to book your appointment!
Learn about Walker Dentistry Implant Services by choosing an option below.
---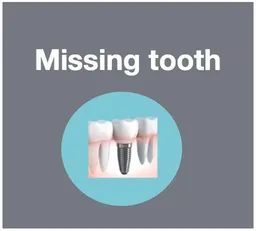 ---